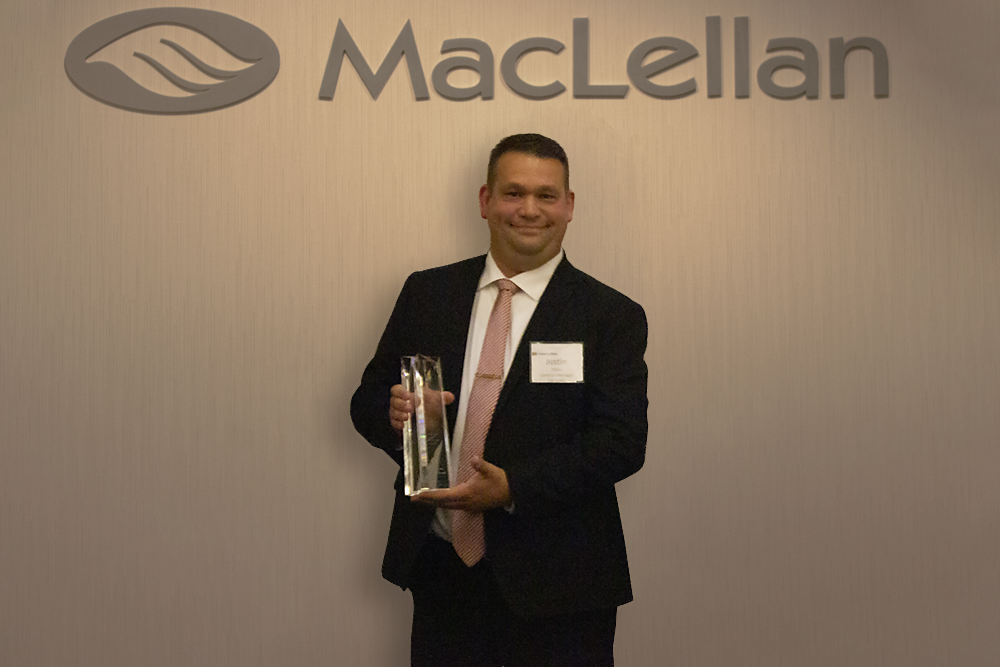 2019 Leadership Award
Tue, 04/25/2023 - 23:17
2019 EXCELLENCE IN MANGEMENT AWARD
By Kelly Washler, Director of Operations
Over the last 15 years, MacLellan has recognized excellence in leadership with the annual Excellence in Management Award. Justin Niles, the 2019 award winner, exemplifies what Excellence in Management should be to everyone in our business. Justin has demonstrated reliability and effectiveness in leadership through personal sacrifice, commitment, self-discipline, perseverance, integrity, and devotion to continual improvement.
Justin is our Contract Manager at Subaru of Indiana (SIA) Wastewater operations. He has a complete grasp of our operational compliance and adherence to the scope of work.  He has become an integral member of the Subaru - MacLellan partnership.
Justin has built an "A" team of operators at SIA that has earned us the honor of being the best run industrial waste treatment facility in the city of Lafayette.  He has an excellent rapport with his team and is the ultimate leader and coach.  Under his direction the team has gone 1,117 days without a recordable injury.
His years of wastewater experience and application of Maclellan systems are a crucial factor in continuous improvement.  Justin is constantly evaluating the current state of our operations and is quick to execute countermeasures guaranteeing delivery of services that result in continued compliance. It is evident in the zero regulatory non-compliance events since assuming responsibility for the contract.
Justin provided technical advice and direction that led SIA to invest in a third wastewater treatment operation.  SIA is now investigating the potential addition of a fourth wastewater treatment facility for the Parts Service Department and Justin is a senior advisor.
Justin's 2019 performance and environmental stewardship exemplify not only Excellence in Management but also the leadership qualities that drive our mission of Best People, Best Systems, and Best Results.  Please join me in congratulating Justin for his 2019 accomplishments and 2019 Excellence in Management Award.