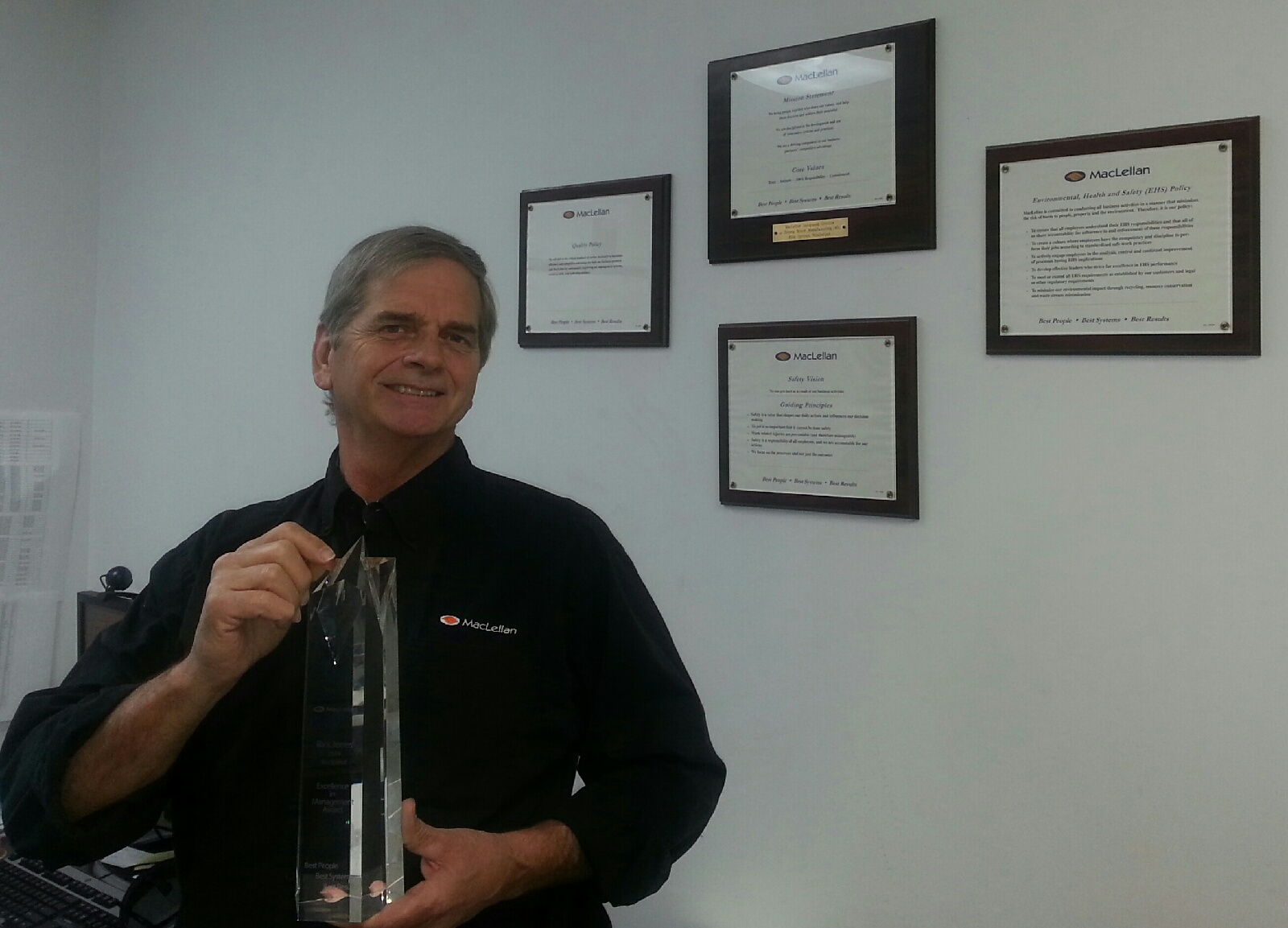 2014 Leadership Award
Wed, 12/31/2014 - 12:06
Congratulations to Mr. Rick Jones, recipient of the 2014 MacLellan Leadership Award.  Rick oversees our operations at a large OEM facility.  He exemplifies our core values of maintaining a positive attitude, trust, commitment and taking 100% responsibility.  Both his team members and his customers provide the same response when asked about Rick, "…he has one mindset - that we work together as one team to keep our collective businesses moving forward."
"We could not have 'run the show' without his encouragement and his ability to care so much, not just for the customer but for his entire team. He helped train us to be the best that we can be…as a TEAM" said MacLellan Team Leader Christina Stringfield.
Get to know Mr. Jones: 
Rick has been married to the love of his live, Cathy, for 41 years. They have 4 children and 9 grandchildren.
Rick enjoys his vegetable garden, planting flowers and being outside. Together, Rick and Cathy enjoy hiking in state parks.
Born in Alaska, Rick has lived in 10 states and Edmonton, Canada. Rick launched his career with MacLellan in Tennessee and now resides in Tupelo, Mississippi.
MacLellan has been able to expand into new areas of the facility based on Rick's integrity and ability to build a cohesive and customer-oriented team.   Fondly known as Mr. Consistency, Rick never misses a deadline.  He continues to meet his continuous improvement goals every month.  In fact, in 2014, his team won the monthly "Best of the Best3" award on three occasions for their exceptional process improvement suggestions.
Rick is a strong supporter of people development and has placed five of his supervisors in Star12 training and development programs.  Additionally, his team member's careers have been furthered through internal promotions and advancement opportunities.