QUICK FACTS:
Our Recordable Injury Rate is 53% better than Industry Average.
Our Lost Day Frequency Rate is 81% better than Industry Average.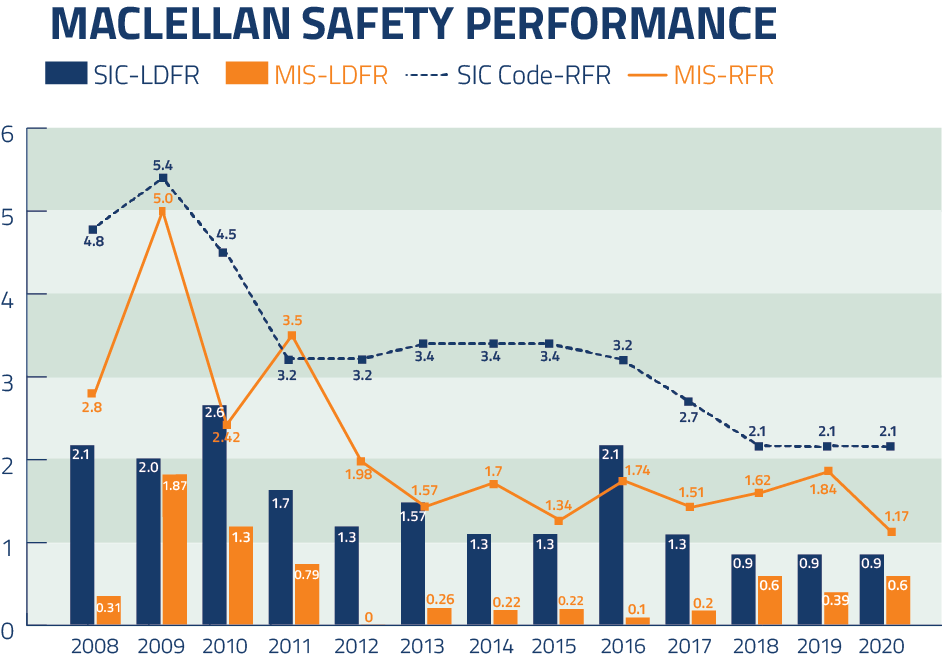 Manufacturing discipline is a core ingredient to MacLellan's drive to deliver operational excellence. Staying true to our commitment, continuous improvement, we have applied fundamental problem solving methodologies to our safety program. Through repeated refinements we have crafted a safety program second to none. This dedication, in return has yielded industry leading safety results to our organization.
As typically found in manufacturing settings, MacLellan tracks industry standard safety main key point indicators. While these metrics are clearly important, they only provide a summary of past safety performance. MacLellan takes a different approach…
We value our main key point indicators, but we harness the power of our leading indicators so that we can sustain long term repeatable success. MacLellan chose to shift the attention to "real time" proactive metrics opposed to strictly focusing on the lagging indicators. This is the difference from managing a safety program based on lagging indicators to a program focused on leading indicators. Lagging metrics provide good visual representation of an end result. Conversely, leading indicators focus on the proactive measurable. Leading metrics focus on engagement and encouragement – key variables to a formula that helps foster a world class safety culture. We provide our management team with the necessary tools to lead a safety driven culture. The MacLellan safety culture is built on employee engagement. A safety culture that inspires our leadership to encourage, promote and recognize positive safety behaviors. Safety, to a large extent, is predicated on good behaviors. MacLellan has integrated a positive safety behavior re-enforcement program that awards points for safe behaviors, not for the absence of incidents. We applaud safe acts and we recognize team members who are safety conscience.
It is our belief that if you control the necessary inputs you will receive the desired results. Furthermore, if we control the correct leading indicators, we will receive the desired lagging indicator results. Our safety record is a testament of continuous improvement. The driving force, and the main contributor to our safety results, resides with our commitment to engage our team and promote good safety behavior.